Fall Swimming Pool SUP Fitness 2020
SUP Fitness, Yoga mix
Get in shape while having fun, improving your proprioception, your sixth sense… your quality of life!
Our courses take place in the pool in the fall, winter and spring.
Classes take place in nature during the summer!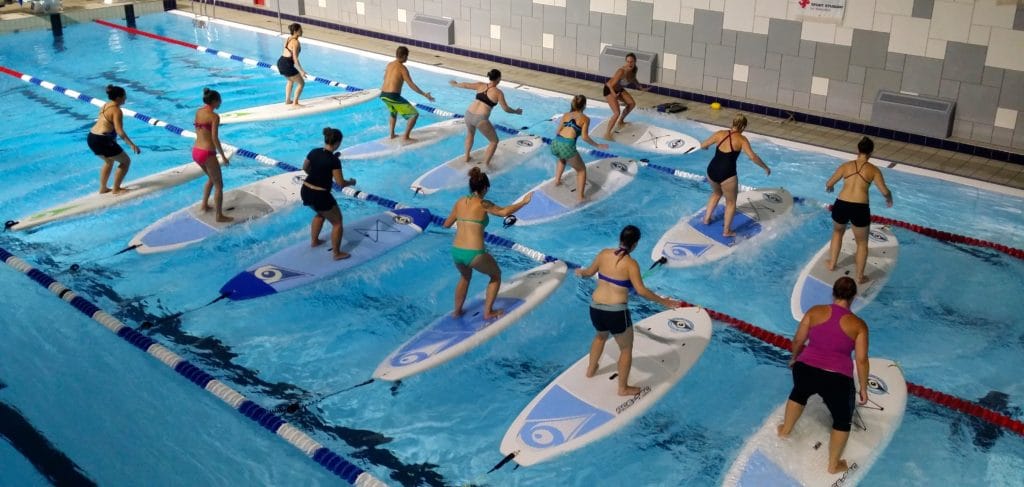 Fall Session
From September 27 to December 7, 2020
Weekly schedule
Beginning September 21 to November 16, 2020
Monday 8:30-9:30pm SUP Fitness
Tuesday 9:30-10:30: SUP Fitness
Tuesday 8:30pm-9:30pm: SUP Yoga
Wednesday 7-8pm: SUP Fitness
Wednesday 8-9pm: SUP Cardio Fitness
Thursday 8:30-9:30pm: SUP Fitness-All Levels
Sunday 4-5pm: SUP Fitness-All Levels
Location
Complexe Aquatique Desjardins in Mascouche
2205 Chemin Ste Marie, Mascouche, QC J7L 1A6
Subscribe now
1 class per week (10 weeks) : $199,50 + taxes2 classes per week (10 weeks) : $340 + taxes

Rate for a single trial class

Rate for a single trial class 1 hour duration : $26 + taxes

Single class

Available only after the beginning of the session depending on the availability of places.

*All classes include the board and training material.
Registration is underway!
Session Automne 2020 du 27 septembre au 7 décembre 2020
SUP Yoga and SUP Fitness are classes where you practice simple and effective movements. Classes are suitable for all levels, you don't need to have any experience. The sessions are progressive and modifications are offered throughout each class, to take your time or to challenge you further. The boards are more stable than they look, although there is still an extra challenge. Your proprioception will be stimulated and your tone will be strengthened in the buttocks, abdominals and spine.
SUP Yoga focus: Flexibility, endurance, balance, stretching and relaxation.
SUP Fitness focus: Toning, abs, glutes, motor skills, endurance, strength training, cardio, and balance.
SUP Cardio Fitness Focus: A little more emphasis on cardio movements, with a little more intensity while offering you opportunities to modify the exercises.
The SUP Fitness HIIT Games focus: The classes are more game oriented with several props used (elastic ball etc..) while still being a great workout combining high intensity exercises.
Cancellation/Refund Policy:
You have up to 3 days after the first class of the session to cancel and get a refund. A handling fee of 10% of the remaining value of your session is applicable. The used course will be charged at the single course rate.
After this time, the session will not be refunded.