How to choose the right Paddle Board?
Are you looking for the perfect Paddle Board model? Your choice should not stop at its color, far from it! There are many aspects to consider before making a decision, such as your budget, your size and your weight. The way you will use your paddle board is also to be considered, as well as the type of board you want. Here is some information and advice to help you know how to choose your paddle board.
How much does a paddle board cost?
Prices vary from $400 for a used model to $3500+ for a new board. We advise you to invest from 800$ to 1300$ and more, if you want to be in the average, but good range!
What type of SUP to choose?
Rigid or inflatable? Solid or light?
The rigid board
If you want to choose a rigid board, you must first make sure you have enough space to store it.
Did you know that it is possible to install a board on your car roof even if you don't have a rack? If you think you don't have a car 🚗 to take it from lake to lake, we'll give you a SUP installation 101 course. But only if you buy from us 🤙🏻🤷🏻♂️
Think a rigid board is hard to transport? Wait until you inflate your board to 15, even 20 psi 😉👌 That's really approximately 275 squats in 5-15 minutes of considerable effort. You also have to count the time it takes to deflate it, put it away, and take it home to dry, only to put it away again.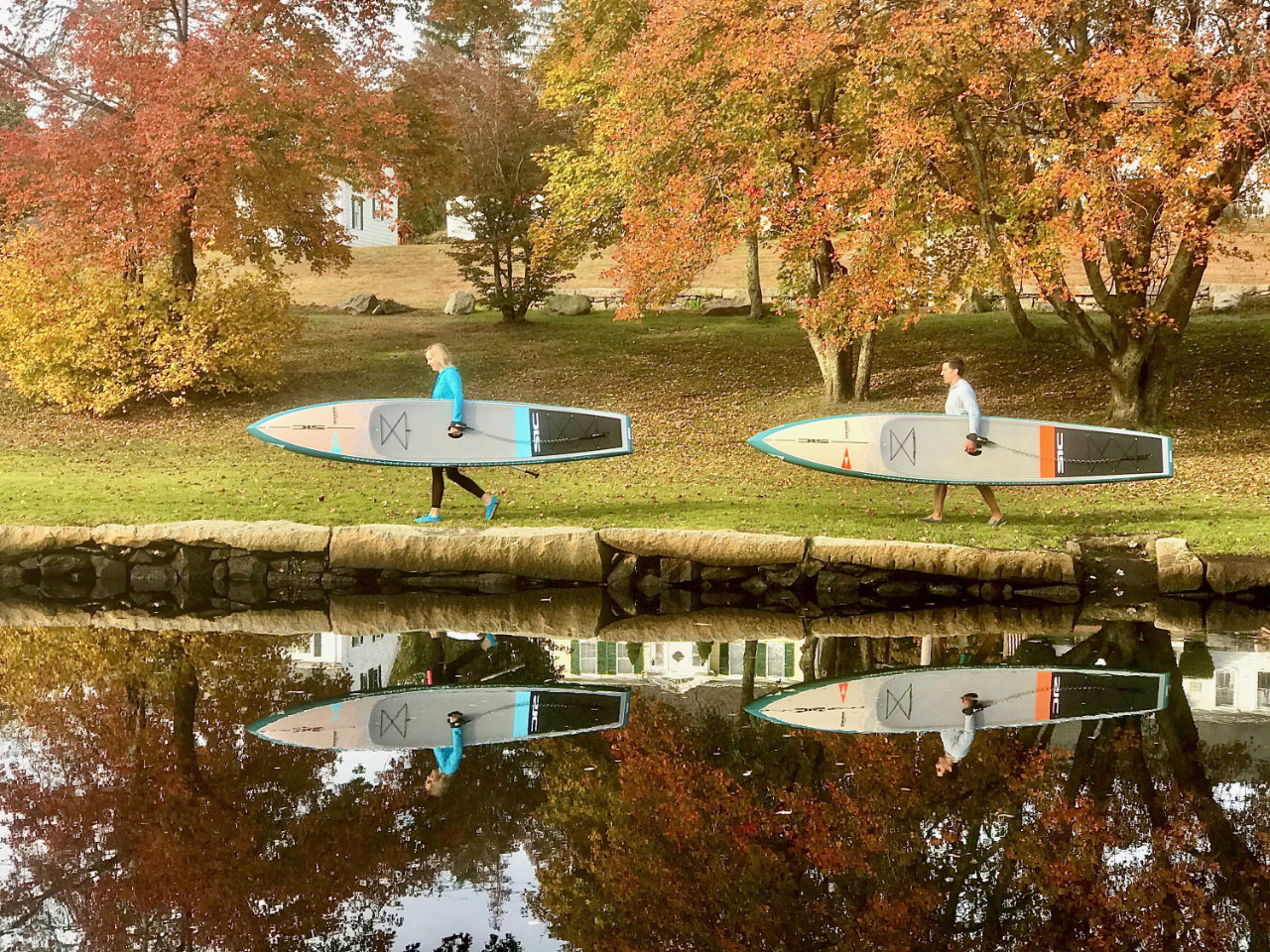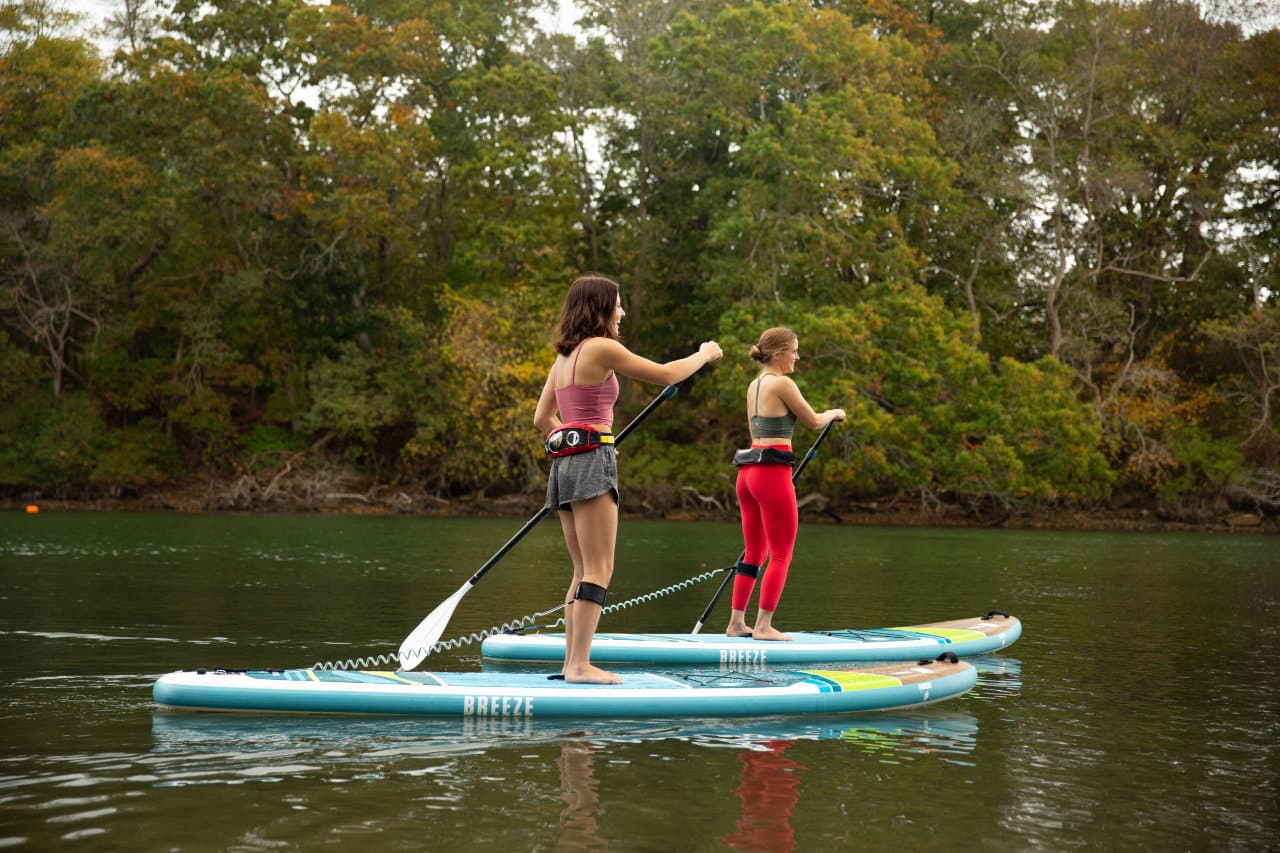 The inflatable board
An inflatable board is ideal if you want to take it on a trip, or if you lack space, it is similar to a folding bike.
This type of paddle board is for you if you always want to be ready, if you want to keep it in your car trunk because you are the type of person who never plans. You have a camper or a car roof already filled with bikes or a trunk? Are you going sailing around the world? Then you don't really have a choice, you want an inflatable!
But in our opinion, if you can afford a good rigid one, then go for it! Without hesitation!
Our brands of Paddle Board
To fit everyone's needs, we have several brands of SUP in stock.
One of our favorite brands is SIC Maui, a division of Tahe Outdoors. They offer excellent SUP models that are constantly being refined. Feedback from paddlers around the world is taken into account to create models that gain speed and stability. More than a paddle board brand, SIC Maui's vision is to be a brand for watermen and waterwomen who share a love for the water.
De quelle façon ton SUP sera-t-il utilisé?
Pense à l'utilisation de ton SUP. Va-t-elle changer pour du plus performant et des distances plus grandes dans un futur proche?
La Touring: parfaite pour toutes les conditions
Tu crois te diriger vers de la glisse plus facile et de longue durée, pour explorer? Tu aimes faire des excursions dans différents lacs et te balader? Va vers du Touring, le feeling est considérablement mieux et moins fatiguant. Et tu pourras emporter tout ce que tu désires! Que ce soit ton puppy ou tes kids, la planche est faite pour toutes les conditions. Elle avance drôlement mieux à cause de son nez 👃🏻 pointu. As-tu déjà vu un canot avec le bout rond?
SUP All-around: stabilité, durabilité et polyvalence
Si tu as une famille et que tu n'as pas le choix de partager ton SUP, alors une planche All-around est une bonne option. Les SUP Tough-tech sont des planches indestructibles et très stables! Tu n'auras donc aucun problème de réparation. Elles sont aussi moins dispendieuses. Ces planches sont conçues pour une stabilité et un confort de glisse. Elles sont idéales pour des conditions peu venteuses et stables, comme la pêche et la balade en famille. Si tu restes en eaux calmes, on recommande également la planche Ace-tech cross 10 pieds. Pour voir nos autres planches solides, consulte la section Super solide.
Une planche de performance, pour optimiser la sensation de glisse
En optant pour la Ace-tech, tu auras une légèreté et elle est 5x fois plus solide que de la fibre de verre. C'est pratico-pratique, une légère différence de prix par rapport à la Tough-tech si tu ajoutes 250$ à 300 $. Elle pèse 4 lbs de moins que la Tough-tech et est aussi légère que les planches en fibre de verre (à partir de 24 lbs).
Fibre de verre, carbone, bois: quels matériaux choisir?
Si tu cherches un fini esthétique ou une forme plus élaborée, vas-y avec le fibre de verre / carbone ou le bois. Ces matériaux offrent aussi performance et prestige.
Quelle taille de planche à pagaie choisir?
Moins le SUP est large et plus il est long, plus il glissera rapidement. Que dirais-tu de faire deux coups de pagaie plutôt que quatre pour la même distance?
Fais le calcul inverse si tu recherches plutôt de la stabilité. Plus c'est large, plus c'est stable. Sous les 10 pieds, on parle de planches pour surfer ou pour enfants.
Avec une planche plus courte, on parle de manœuvrabilité. On aime comparer les planches larges à une bonne vieille Cadillac!
Une largeur très répandue est 30 à 32 po. La taille de la planche dépend aussi de ton poids. N'hésite pas à contacter notre équipe pour t'assurer de choisir la bonne grandeur de SUP.