Next Adventure: April 21st – 30th, 2017

An unforgettable adventure trip in Costa Rica!
10 days of surf and turf adventures discovering the Southern Pacific coast of Costa Rica. Surf lessons, paddle board adventure, yoga, sea fishing, hiking, and diving into Costa Rica lushous jungle to observe its wildlife! All of this done through a road trip immersing yourself into the atmosphere of Pura Vida.
French-speaking guide who lived in Costa Rica will take you to places off the tourist highway.
For beginner to advanced surfers… no experience required, only the taste for adventure & relaxation are required!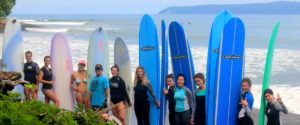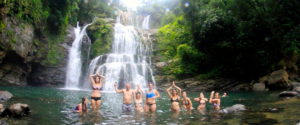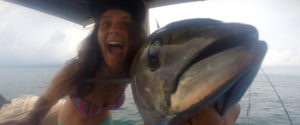 Included in your adventure:
The Essentials: 
*9 nights accommodation (shared (2 or 3) or private) in 3 different surf towns!

*Ground transportation from the airport, throughout our road trip to Puerto Jimenes at the end of your trip (* specific conditions of flights must be met to benefit from transport to the airport)
*Road trip of a lifetime …start your adventure in an active hippy surf town, to move towards a quaint lush surf village, to end at the heart of the jungle bordering the ocean where only solar energy and the stars will provide light at night! Dominical – Pavones – Cabo Matapalo.
* Private trilingual guide (French, English, Spanish), who lived in Costa Rica, throughout your trip!
Food and more …
*** You will have your private chef of 20 years of experience preparing your meals included
7 Breakfasts prepared by your experienced private chef
*3 lunches prepared by your experienced private chef
*3 dinners  cooked by your experienced private chef 1 will be with the fish you have freshly caught!
** For the rest of the meals, discover a few local restaurants offering a culinary experience (extra costs), also possibility of cooking at the villas!
The Surf!
*1 theory class on wave formation, types of breaks, winds, surf etiquette, surf history, dangers of surfing, tides, etc …
*6 surf lessons with experienced Costa Ricain local coaches and Pascale as a French-speaking coach.
*1 filmed surf session
* A filmed surf session followed by a movie night… we watch ourselves on the big screen to laugh but mostly to improve our surf technique
*Photos of your surfing exploits to take home with you
* Enjoy surfing several types of waves; beach break, point break, right and left.
* Surf one of the longest waves in the world.
* Surf in a dream setting away from tourist crowds.
Activities on land:
*4 yoga classes for surfers
* 2 to 3 hike adventures
* Discovery of a waterfall
* Observe monkeys, sloths, tropical birds of Costa Rica  and more wild life
Other ocean activities:  
* 1 downwind SUP adventure
* 1 boat trip to your last destination
* Fishing local style at sea
Shared room (2 or 3) – * (1449 $ US) 1938 $ CAN
*  (US $ 425) 568 $ CAN additional private room.  * (Prices are  in  Canadian $ varies by US $ to CAN $ exchange rate of the day)
Not included in your adventure:
* International airfare                                                                                
* Transportation from Puerto Jimenez to San José International Airport at the end of the trip (choice of flight or bus)
* Meals (all except those mentioned above), water, beverages, alcohol
*Travel Insurance (Mandatory)
 * Luggage fees
* Your accommodation & transportation before April 21 and after April 30, 2018, 4pm.
Use of sport equipment (SUP, Surf boards) during free time.
Your accommodation and transport before April 12th 2017 and after April 30th 2017 at 4:00pm.
** NOTE: In shared rooms on a rare occasion, you may have to share a double bed for our last location, since we live in private villas, there might not be single beds for all.
****************************************
For more information or to sign up:
info@echoaloha.com or 514-709-0808
Trip organized in collaboration with Horizon 5 and Healthy Obsessions:
www.healthyobsessions.com & Horizon 5: www.horizon5.ca (Quebec permit)